Actor-mime Bowers presents master class, one-man show at Venture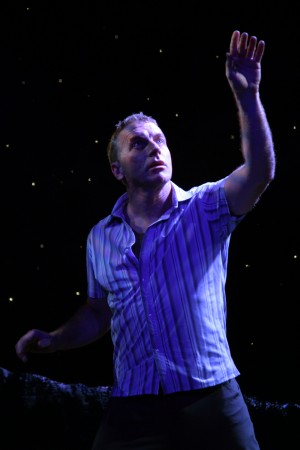 Venture Theatre will present "It Goes Without Saying" by renowned mime Bill Bowers on Friday, May 6, at 8 p.m.
In this 75-minute joy ride, Bowers shares hilarious, heartbreaking and unbelievable true stories from both his career as an actor and mime and his lifelong exploration of the role silence plays in all our lives. Often compared to the work of David Sedaris, Claudia Shear and Augustin Burroughs, "It Goes Without Saying" is a uniquely crafted autobiography.
The spoken-word show takes the audience on a scenic tour of Bowers' life thus far; from his childhood in the wilds of Montana, to outrageous jobs as a performer across the country, to the whirlwind of Broadway and studying with the legendary Marcel Marceau.
The Washington Square News writes, "Bill Bowers is not your typical mime. In his one-man show 'It Goes Without Saying,' directed by Martha Banta, he offers a taste of his life through a series of David-Sedaris-esque chronicles — sidesplittingly funny and tear-jerking at the same time. Oh, and he talks."
"It Goes Witghout Saying" was developed at the Adirondack Theatre Festival in 2003 under the direction of Banta, and was presented at the Berkshire Theater Festival's Unicorn Stage in the summer of 2004.
In 2006, "It Goes Without Saying" enjoyed a critically acclaimed off-Broadway run at the Rattlestick Theatre, followed by several regional presentations.
Robert Brian Wood, artistic director of Venture Theatre said the theater is lucky to have Bowers.
"His show is inspiring and entertaining. Especially for young Billings performers who dream of 'making it' on the stage (and their parents), this will be an amazing experience," Wood said.
Bowers will present a master class for performers and parents at Venture Theatre on Friday, May 6, from 6 to 7 p.m. before performing his show. In the class, Bowers will discuss the industry of performance and film and talk about what it took him to get to where he is today.
The class is open to youth from sixth grade through adults. Parents of youth are strongly encouraged to attend. The cost of the master class is $5 and class size is limited.
Contact the box office at 591-9535 to register. Those who attend the class will get into "It Goes Without Saying" at half price.