Don't let the blood scare you, Venture's 'Inishmore' is only a farce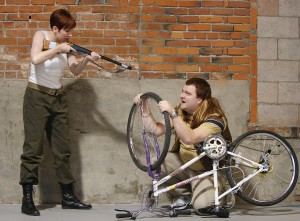 When Venture Theater's Robert Wood introduced "The Lieutenant of Inishmore" on opening night last Friday, he joked about something many theater folks may have already observed.
Here's this director who fell in love with musical theater, then went off to graduate school, and now he's producing an Irish blood-bath? To that, I'd say "good choice, Robert." "Lieutenant of Inishmore" is showing in Venture's Black Box theater weekends through April 30.
Because of the warning of blood, strong language, violence, and torture, I was needlessly nervous about seeing the show.
All are integral to "Inishmore" because it is a satire on the violence and pretentiousness rampant among paramilitary groups, in this case the Irish. The show is successful because the cast takes the characterization of the volatile lot they play so far over the top, they become ridiculous. At one point in a lull between splattering blood and gunfire, one of the characters notes, "It's incidents like this that puts tourists off Ireland."
Jayme Green freakishly nails the part of Lieutenant Padraic. From his pasty white scalp showing through his shaved stubble to his mastery of an Irish accent and the cold stare, Green gets the nasty job done of being the show's antihero. The only character in the show who really cares about Padraic is the twisted teenager Mairead, played with a fierce energy by Angela Fulkerson. She shows her toughness again and again, starting out with the scene where she stomps all over her brother Davey's bike.
Padraic's deadbeat dad Donny (Shawn Bettise) could care less about his son and when faced with losing his son or his life, he chooses life.
"When your son tries to execute you, your opinion of him goes down," Donny says.
Shad Scott is the deliciously stupid and weak Davey, who becomes the brunt of almost every foul prank in the show.
The action of the play is set in motion when Davey brings in a mangled cat – wee Thomas – which he found lying dead in the road. Scooping the cat's brains into his hands, Davey announces, "He won't be saying hello any more, not with that chunk of brain gone."
Turns out, wee Thomas is the only creature in the world that Padraic has any feelings for. When he is told Thomas may be feeling poorly, Padraic heads home to nurse his cat back to health. Nobody has the courage to tell Padraic that wee Thomas is dead and there are hilarious attempts to cover up Thomas's death.
The dead cat is joined soon enough by other bodies and the violence becomes more and more  outrageous. Riley Wisler, Patrick Landry, and Daniel Zent round out the cast. Any guesses who lives through to the final curtain?